'Keep Summer Alive' Discount Code to Save 30%
"Keep Summer Alive" Promo Code for a 30% Discount on All Car Rentals*   Promotional Discount Information Book a vehicle with Vamos to start August 15th, 2018 or later and you'll get a 30% discount...
Blog
4 years ago
Surf Lessons in Costa Rica - Top Tips
The Beginner's Guide To Surfing In Costa Rica Guest post by Charlie Page. Images courtesy of FinBin. Costa Rica has been a hot spot surfing destination for many years now,... Continue readingThe post...
Blog
4 years ago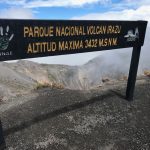 A Colossal Adventure at Irazu Volcano National Park
A Colossal Trip atop a Mountain Volcano Exploration My husband and I are avid outdoor enthusiasts. Last year we decided to explore the national parks, but specifically the volcanoes of... Continue...
Blog
4 years ago
Rental Requirements
So just what do you need to rent a car in Costa Rica?  Well, you don't have to take a deep breath because it's really not that complicated. We've condensed it down to less than a handful of...
Blog
5 years ago
Frequently Asked Rental Questions
Little confused?  We understand. There's an overwhelming amount of traveler advice out there — especially when planning a vacation to another country. We all need guidance at some point, so...
Blog
5 years ago